Happy April, everyone!  Read on for details about our April special and our upcoming LBCA Celebration/Bon Voyage Party for Suzzanne!
Thursday Hours: 12-8pm
Just a reminder about our new lunchtime appointments every Thursday! It's a great opportunity to break up the work day and enjoy a relaxing acunap during your lunch break!  Schedule now!
April Special: Wednesday Mornings, 2 for 1 treatments!
Bring a buddy on any Wednesday morning in April, and get both treatments for just $20!  Be sure to book both appointments in our schedule so that we can ensure that we have a chair for each of you. :)  As usual, an additional $10 paperwork fee applies to any new patients.
Bon Voyage, Suzzanne!
It is time to celebrate our wonderful acupunk and founder, Suzzanne, and give her a great send-off for her upcoming move to Oregon!
Suzzanne has taken a job as the Student Clinic Coordinator at POCA Tech, a community acupuncture school in Portland.  This career change is a wonderful opportunity for her to share her clinical knowledge and expertise with the next generation of acupunks, so that they can go forth to open successful community clinics that will benefit thousands of individuals, just like Little Bird Community Acupuncture has done over the past 5 years.
Suzzanne's last day treating at Little Bird will be Saturday, April 9.  Although we will miss her greatly, we are so happy that she is following her heart and that she will be playing a key role in bringing quality, affordable acupuncture into more and more communities.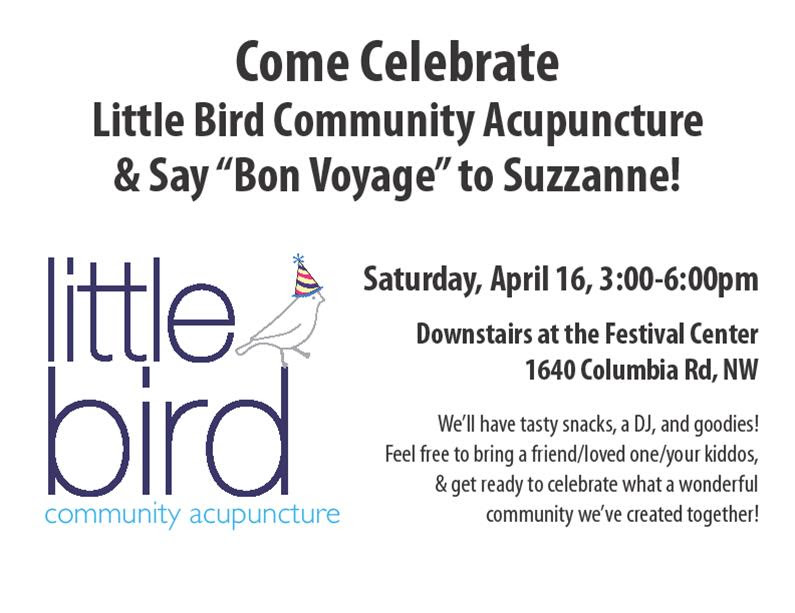 We would love a little help with snacks. If you have a favorite treat to share, please bring it to the party! We hope to see you there!
Best,
Little Bird Staff